Skip to Content
Vascular Surgery by an Experienced Cardiologist in Sugar Land, TX
Complete Cardiology Care Provides Vascular Surgery
When you need help protecting and maintaining the health of your heart, Complete Cardiology Care is here for you. In our Sugar Land, Texas office, you will find an experienced cardiologist and nurse practitioner dedicated to helping patients find solutions to any cardiac issues they may be facing. Our practice lives up to its name by offering a complete list of cardiology services, delivered by our team of medical professionals whose careers are focused on helping people improve their heart health. Using advanced technology and state-of-the-art equipment, we offer comprehensive healthcare, including vascular surgery.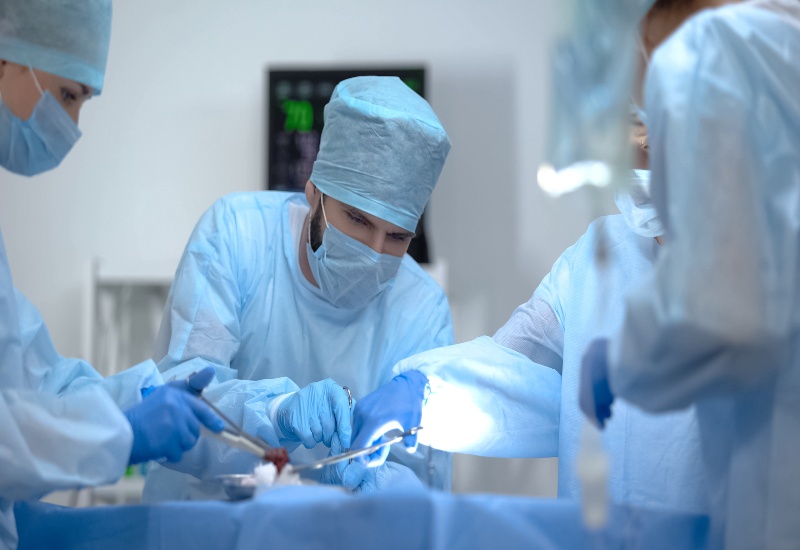 What Is Vascular Surgery?
Vascular surgery is used to treat a wide variety of heart and blood flow problems. Vascular disease can affect the arteries, blood vessels, veins, and capillaries that carry blood, as well as the lymphatic system, which is made up of vessels that carry lymph from the tissues into the blood. In some cases, vascular disease can be life-threatening. Vascular diseases treated by surgery include abdominal aortic aneurysm, peripheral artery disease (PAD), and varicose veins. These conditions can be treated using vascular procedures that repair damage to the blood vessels, lower the risk of complications from vascular diseases, and create access to blood vessels for medical therapies.
Why Would You Need Vascular Surgery?
Sometimes, patients can avoid vascular surgery by making lifestyle changes or taking medication, if the condition is caught early and doctor's advice is followed. Simple changes like adding a walking routine, for instance, can effectively alleviate conditions like PAD. However, in some cases, surgery may be necessary to improve the patient's quality of life. Only a vascular surgeon can determine the best treatment for each individual.
What Are the Different Types of Vascular Surgery?
Different vascular surgery procedures are used for different types of conditions. In general, vascular surgery falls into two categories: open surgery and endovascular surgery. In open surgery, a long incision is made so that the surgeon can have direct access to the problem. Endovascular surgery is minimally invasive and involves inserting a catheter through the skin and into the blood vessels. Open surgeries are used for procedures like removing a damaged part of a blood vessel and replacing it with a graft, or for a bypass. Minimally invasive procedures include angioplasty, stenting, atherectomy, sclerotherapy, and thermal ablation.
Common Vascular Diseases
Certain conditions typically require vascular surgery. These include:
Aortic aneurysm
Blood clots
Carotid artery disease
Chronic venous insufficiency
Deep vein thrombosis (DVT)
Varicose veins
Thoracic outlet syndrome
Renal artery stenosis
Fibromuscular dysplasia (FMD)
Peripheral artery disease (PAD)
May-Thurner syndrome
Mesenteric artery ischemia
Popliteal artery entrapment syndrome (PAES)
Visceral and peripheral arterial aneurysms
What Happens During Vascular Surgery?
Because there are different types of vascular surgery procedures for different conditions, what happens during vascular surgery varies. Before your surgery, your surgeon will tell you what to expect and how to prepare for your procedure. Preparation may need to start days or weeks in advance of the surgery. On the day of your surgery, you will be given a physical examination before your procedure. Whether you are having an open procedure or something that is minimally invasive, during the surgery your doctor will work to repair the damage and treat your condition.
What Are the Benefits of Vascular Surgery?
In some cases, vascular surgery can save a patient's life. For other patients, getting surgery dramatically improves their quality of life. Vascular surgery can reduce your risk of certain conditions and of complications that can arise from untreated vascular disease.
What Is the Recovery Process After Vascular Surgery?
Some procedures can be performed on an outpatient basis. This means that, following your surgery, you will be allowed to go home that same day. For open procedures, however, you may end up spending time in the intensive care unit and in the hospital. Once you are released, you will need to follow up with your vascular surgeon, and since vascular diseases are chronic, you will likely need to see the vascular surgeon throughout the rest of your life.
Why Choose Complete Cardiology Care?
When you need a cardiologist who will provide you with personalized treatment and advanced cardiac care, trust Dr. Yassir Sonbol M.D., F.A.C.C., and the experienced and highly trained team at Complete Cardiology Care. We provide vascular surgery, along with a wide variety of tests and screenings, including heart disease screenings, vascular ultrasounds, angiograms, electrocardiograms, and echocardiograms, as well as stent placement. Call us at 281-617-2483 or schedule an appointment through our website.
Keeping Your Heart Happy and Healthy