Skip to Content
Ventricular Assist Device Types in Sugar Land, TX
Devoted to Helping Patients Improve Their Heart Health
Complete Cardiology Care provides patients throughout Sugar Land, TX, and the surrounding areas with premier ventricular assist devices. Our team of medical professionals has devoted their lives to helping patients improve their heart health and deal with any heart conditions they may be diagnosed with. Whatever your cardiac symptoms are, we can help you find the answers you're seeking. When you visit our state-of-the-art cardiology practice, you can rest assured you're in good hands.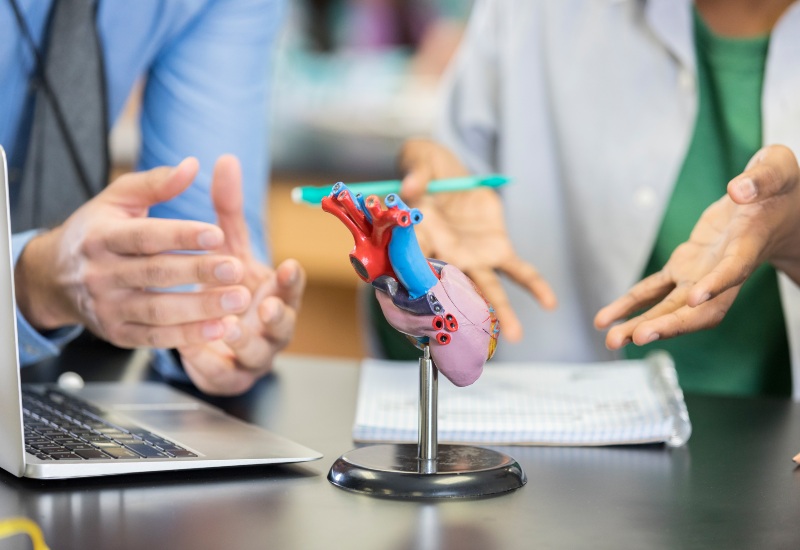 What is a Ventricular Assist Device?
A ventricular assist device (VAD) is a device that acts as an implantable heart, helping pump blood from the heart's lower chambers to the rest of the body. Used as a treatment option for those with a weakened heart or heart failure, a VAD is a useful means of helping the heart work efficiently when it's unable to do so on its own. Some VADs are temporary, while others are permanent. Temporary VADs are used to keep the heart stable while the patient awaits a heart transplant. Permanent VADs are used to help treat advanced heart failure. A VAD is sometimes also called a durable mechanical circulatory support device or a heart pump. There are VADs for the left and right ventricles.
Why is a Ventricular Assist Device Used?
There are numerous reasons why your doctor may suggest you need a ventricular assist device. Your doctor may recommend a ventricular assist device if you're waiting on a heart transplant, you can't have a heart transplant due to age or other factors, or you have temporary heart failure. However, if a ventricular assist device is right for you will depend on several factors, including the severity of your heart failure, your ability to take blood thinners safely, other serious medical conditions you have, how well the main pumping chambers of your heart work, your mental health, and how much social support you have from family and friends. Ventricular assist devices are most commonly used in patients who:
Require inotrope medication for their heart to function
Have been hospitalized multiple times for heart failure
Have heart failure accompanied by an ejection fraction (EF) of less than 30%
Have an arrhythmia that cannot be controlled via medication or other treatments
Have angina that cannot be controlled via medications or other treatments
How Do Ventricular Assist Devices Work?
Whether you have a left ventricular assist device or a right ventricular assist device, both consist of several components. Some are implanted and connected to the heart, while others remain outside the body. The components of ventricular assist devices that make them function include the following:
Inflow Cannula
This connects to the tip of the ventricle and enables blood to flow from the heart into the mechanical pump.
Outflow Cannula
This connects the mechanical pump to the aorta, pulmonary artery, or both
Mechanical Pump
This takes over the heart's pumping action.
Driveline
This thin, durable cable runs from the device and through the skin to connect to the external control device, aka the controller.
Controller
This small computer enables the user and healthcare providers to check how well the device functions.
External Battery Pack
This includes the device's main battery and backup. The controller connects the device to this battery pack.
The Different Types of Ventricular Assist Devices
There are multiple ventricular assist device types. Each device helps the heart function more optimally, pumping blood from the vital organ to the rest of the body. The different types of VADs are as follows:
Left ventricular assist devices (LVADs)
Right ventricular assist devices (RVADs)
Biventricular assist devices (bi-VADs)
Percutaneous ventricular assist devices (Impella and TandemHeart™)
The Benefits of Ventricular Assist Devices
Ventricular assist device benefits are vast. These devices can temporarily or permanently support a patient's heart. Unlike heart transplant procedures, there is also no waiting period for this procedure. The benefits of ventricular assist devices include, but are not limited to, the following:
Relieving the heart's workload
Prolonging patient life
Improving organ function
Reducing fatigue and breathlessness
Increasing patient's energy levels
Sometimes allows for heart recovery
What Results Does Ventricular Assist Devices Provide?
After undergoing the ventricular assist device procedure, patients can expect routine checkups with their healthcare provider to monitor for complications and improved health. Special tests will check your blood pressure, and you'll be prescribed a blood-thinning medication to help prevent blood clots. Regular blood tests will allow for the medication's effects to be monitored. After the procedure, patients can also expect cardiac rehabilitation and, hopefully, ample support from family and friends.
Contact Complete Cardiology Care Today
At Complete Cardiology Care, we are dedicated to the health and wellness of our valued patients. Our highly-skilled, compassionate team of experts can diagnose and treat all heart conditions, helping you find solutions to any cardiac issues you may be facing. In addition to ventricular assist devices, we offer a wide range of cardiology services. Whatever your heart needs are, we can help. Reach out today to schedule a consultation or to learn more about ventricular assist devices.
Keeping Your Heart Happy and Healthy